A few weeks ago I started sharing photos from my past and then I found fellow blogger was doing the same thing. If you'd like to join in the fun click on the link below and enjoy taking a trip down memory lane on Friday's.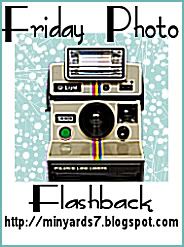 I have an adorable picture of my lil bro and I playing in the snow in November of 1985 that I was going to scan for today but when I try to scan I get this error message, (The scan cannot be performed because another program or computer is using the network device) so until I can have my awesome husband help me figure out what's going here is one of my favorite photos of our first furbaby, Gracie.
This is Gracie & her feline friend Orion in 2004. Orion was our neighbors cat and these two use to play a lot. It was fun to watch!